It's not every day you meet someone who has helped bring 15 babies into the world.
But that's exactly what Camberwell mum Carla Pincombe has done.
With three kids of her own, she has helped create 11 other babies through egg donation and carried one as a surrogate.
And she's not done yet – Carla is about to start trying for a sibling for the baby she carried as a surrogate. And another family is pregnant with an egg she donated.
Carla always loved being pregnant and during her third pregnancy it was a conversation with her then husband that got the ball rolling.
"He mentioned it was sad you couldn't get paid to be a surrogate in Australia like you do in US," she said.
"At that stage I was pregnant and had a one-year-old and a three-year-old. It made me start thinking – I can't be a surrogate, but I could donate eggs because we're not going to use them."
She looked into it further, but read that you needed to stop breastfeeding to donate so put it on the backburner.
When she stopped breastfeeding she joined an egg donor online forum and made a donation within three months.
"I donated eggs to one family, then another and another," she said.
She then met a gay couple who live in Mitcham through the forum.
"One of the boy's sister in laws had offered to be the surrogate and I had offered to be egg donor," she said.
"She had a couple of transfers but didn't fall pregnant so she pulled out. And that's when I offered to be their surrogate as well, using my eggs."
Carla was pregnant in the middle of 2016 and gave birth to a bouncing baby girl in March last year.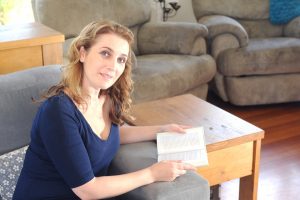 She understands that the idea of surrogacy for people who don't mix in those circles is something tough to get their head around.
She also agrees that it is not for everyone.
"Often people compare it to when you are pregnant for yourself and bond with the baby," she said.
"But for me it's wanting to do something for the parents – they want to have a child and I want to make them happy.
"My bonding is with the parents, not the baby. It's quite a different experience."
It's something different for her kids too, who are now aged six, eight and 10, having to explain to their friends that while their mum was pregnant at school pickup – the baby wasn't going to be their brother or sister.
"I've been very open with them from the start – egg donation has always been a part of their lives they were 1, 3, 5 from the start," she said.
"So they've always known these people are related to us but are not brothers or sisters."
The process of egg donation is similar to IVF, according to Carla – but the embryo gets implanted into someone else.
"You don't have any say over the babies that are born, the parents can't ask for child support, and the children can't ask for anything from will when you die," she said.
"While biologically related to you, they are in no way part of your family."
That said, Carla stays in touch with all families she has donated to.
"It's been very different, I have very different relationships with all eight recipients – I see a couple every now and then, have dinner with others and a few who have become great friends that I chat to every day."