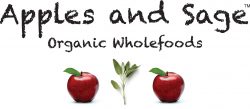 Place Category: Local ServicesPlace Tags: Balwyn
Apples and Sage
Address:
371 Whitehorse Rd
Balwyn
Victoria
3103
Australia
Apples and Sage is a family-owned and run business.

Apples and Sage Organic Wholefoods believes in good old-fashioned service. Team members have outstanding customer service skills and know the products well. 

The family business is dedicated to people who love food and care about what they consume.

It is for people who understand what we eat affects our health and wellbeing, and where our food comes from affects the environment. 

Apples and Sage is a full organic supermarket which stocks everything from toilet paper to nappies to Vegan products and, of course, organic fruit and veggies. Need some gluten-free bread that actually tastes like bread? You can find it here!