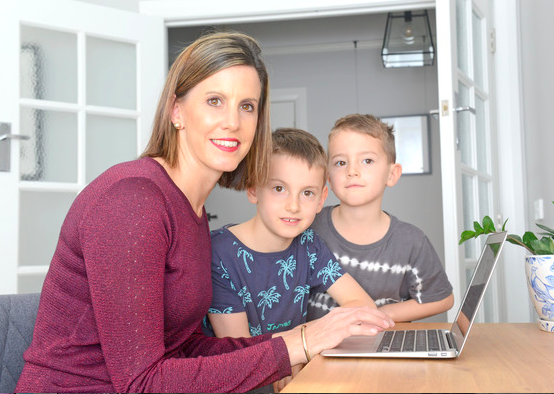 By Danielle Galvin
When Natalie McCann returned to part-time work after having her two boys, she discovered she had a calling for a change in career.
She'd worked in the corporate world as a project manager for over a decade but she felt a change of heart.
"I had a break when I had the children, and then I went back part-time," she said.
"And while I was there I had probably the same experience as a lot of other mothers – I felt if I'm really going to be away from my kids, I want to do something a bit more interesting and something I am a bit more interested in.
"I felt like I was just showing up, my heart wasn't in it."
It dawned on the mum of two young boys, now aged 6 and 8 ,that it was the time to build a career elsewhere and follow her passion.
"I decided to study health and nutrition coaching which was always my interest," she explained.
"I was always reading nutrition books on the train and my social media feed was full of that kind of information."
It's still a juggle, but she works from home these days and loves the flexibility.
Gone are the days of the 6.30am train ride to the city.
Like most parents, she was feeling torn about the return to work, on the one hand ready but also feeling a sense of "mum guilt".
But she soon discovered she had another calling and started studying a 12-month course in health and nutrition coaching.
These days she's proudly the CEO, Head Coach and Wellness Expert at Seedling Health where she helps people navigate different pathways to health.
"I am finding this work really fulfilling, it's great to be helping people in an area I'm really interested in," she said.
"When I first started, I was so excited (to work from home) I was so happy to be home all the time.
"Now, if people want to meet me out I kind of jump at the chance!
"I do love being home and it being flexible, I'm lucky I can kind of close the doors to the rest of the house.
"Now I have to find the balance of getting out. Otherwise you do spend a lot of time by yourself."
But Natalie's relishing in the time at home, that she can be there for her kids when the school bell rings, to ferry them to basketball games or footy training and reading sessions at school.
As for starting again, Natalie said it was taking the risk that was the most daunting.
"That was the hard thing – taking the leap," she explained.
"I thought how am I going to do this? This is something I've done for 12 years. I don't know how to do anything else.
"For me it was just working out what was my hobby. My hobby and interest was reading nutrition books and reading articles on that all the time.
"My tip for everyone else would be what do you spend your time doing – what's on your social feed? That's how you find what an alternative could be."