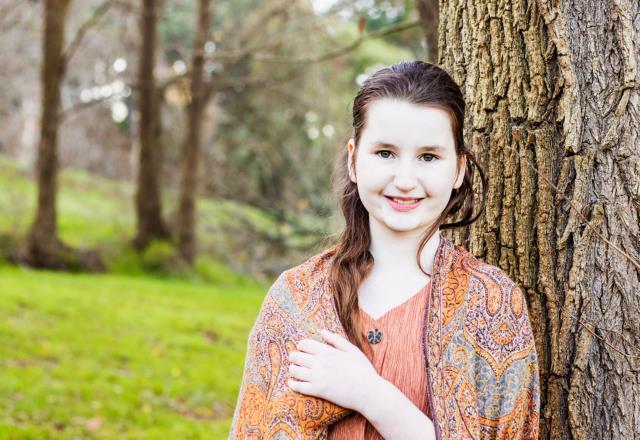 By Melissa Grant
Writing doesn't come easily for Melbourne girl Adelaide Hogan, but her adoration for a neighbourhood cat has led to her authoring a children's book.
Adelaide's book, simply titled A Cat's Story, is based on one of four cats that regularly visits her garden, a feline she calls Coco.
The 11-year-old's story is told from Coco's perspective and follows the challenges the cat faces as she transitions from street-cat to shelter cat, to the beloved companion of a young woman.
Adelaide wrote the story after her mum Amy saw the Cat Protection Society of Victoria advertise its Furry Tales Children's Story Competition last year.
Her story was judged the winner of the junior category from over 260 entries – a significant achievement.
"Winning a story award is very special to us given that Adelaide has dyslexia and writing is not always easy for her," Amy explained.
"She can really identify with cats which is why she wrote the cat from Coco's perspective."
Adelaide wrote the story over three or four days. Her goal was to show how the Cat Protection Society of Victoria helps injured cats go from living on the street to finding their forever home.
She was also particularly excited about one of the prizes on offer.
"I love cats, and write most of my school creative writing stories about cats and kittens," Adelaide said.
"When I saw there was a chance to win a cat cuddle session with my friends, I wanted to win because they love cats, too!
"I like cats because they are soft and cuddly. My friend's cat, Jasmine, is super friendly and lets me pat her any time I visit."
Adelaide's story has been turned into a Children's Book professionally illustrated by Leah Lux Artist and Photographer.
Stories entered in the Society's competition were judged on how they help educate the community on responsible cat ownership or raise the profile of cats as companion pets.
Annie Bell, primary school teacher and judge of the Junior Category said Adelaide's story was very heartwarming.
"I found this story particularly moving which is a testament to how well it is written," she said.
"It reinforces the importance of cat adoption so there are less vulnerable cats roaming the streets. It also reminds the reader of the love, companionship, and utter joy that cats can provide for us."
A Cat's Story can be purchased for $25.00 at www.catprotection.com.au/furry-tales/ or at the Cat Protection Society of Victoria's retail store located at 200 Elder Street, Greensborough.
The hard cover book is a 'flip book' that also features 'The Very Best of Friends' written by Sue Moossajee, the open-age winner of the Society's competition.
Proceeds from the book will go towards continuing to provide care for and rehoming of cats and kittens in need at the Society.