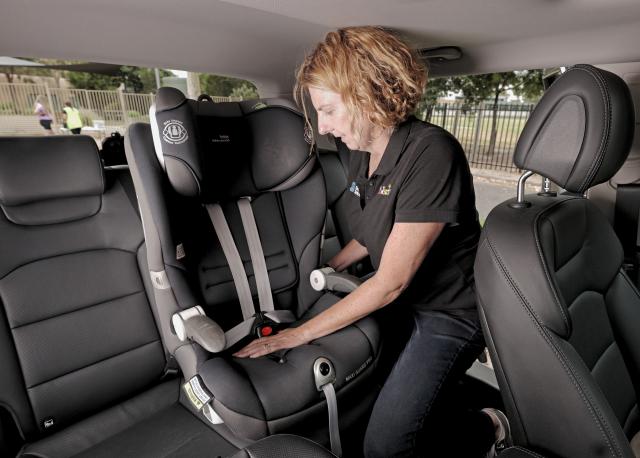 More than 90 percent of child car restraints in Stonnington and Boroondara are incorrectly fitted or used, Kidsafe Victoria says.
CEO Melanie Courtney urgently called on all parents and caregivers to regularly check and adjust their child car restraints, and to book in for a free fitting or inspection through the 'Safe Seats, Safe Kids' program.
The program checked 320 child car restraints in the City of Stonnington and found 93 percent were incorrectly installed or used.
Half required an adjustment, while 42 percent needed a complete refit.
Only one per cent needed to be replaced due to being more than 10 years old, having damaged or missing parts, or being an overseas model below Australian standards.
In Boroondara, more than 700 were checked. Ninety-one percent were incorrectly installed or used, with 55 percent requiring adjustment, 34 percent requiring a refit, and 2 percent needing replacement.
Kidsafe Victoria CEO Melanie Courtney said the risk of life-threatening injuries was four to six times greater when child car restraints were incorrectly fitted or used.
"Ensuring child car restraints are properly installed can be challenging for parents if they
haven't been shown how to do so, which is why the 'Safe Seats, Safe Kids' program is so
Important," she said.
"Many parents and carers who attend one of our free checking days simply don't know that their child isn't restrained safely.
"Our accredited fitters ensure the restraint is correctly fitted and also provide education and advice to help parents continue to keep their kids safe on every trip."
Typical issues identified included:
Top tether straps twisted, connected to the wrong vehicle point, or not connected to an anchor point at all;
Twisted harness straps or harness straps at the incorrect height;
Seatbelts threaded through the incorrect path;
ISOFIX attachments not secured correctly; and
Children in the wrong sized restraint.
Transport related incidents are one of the leading causes of accidental death for Australian children.
About seven children aged under 15 years are killed on Victorian roads each year, with about another 300 injured.
Kidsafe Victoria runs 'Safe Seats, Safe Kids' in partnership with Neighbourhood Houses Victoria and with State Government support.
Pakenham MP Emma Vulin said encouraged all parents and carers to book in for a free child car restraint fitting or check at their local Safe Seats, Safe Kids day.
"Not only will it provide you with peace of mind, it will also help to keep your kids safe," she said.
Neighbourhood Houses Victoria CEO Keir Paterson said 'Safe Seats, Safe Kids' provided a vital service to local communities that many families might not otherwise be able to afford.
Visit www.safeseatssafekids.com.au to book a free appointment to have a child car restraint installed or inspected.
A free e-learning tool for choosing, installing and using child car restraints correctly is available at safeseatssafekids.com.au/courses/child-car-restraints.
For information and advice on the best practice guidelines for safely transporting children, visit safeseatssafekids.com.au/resources.