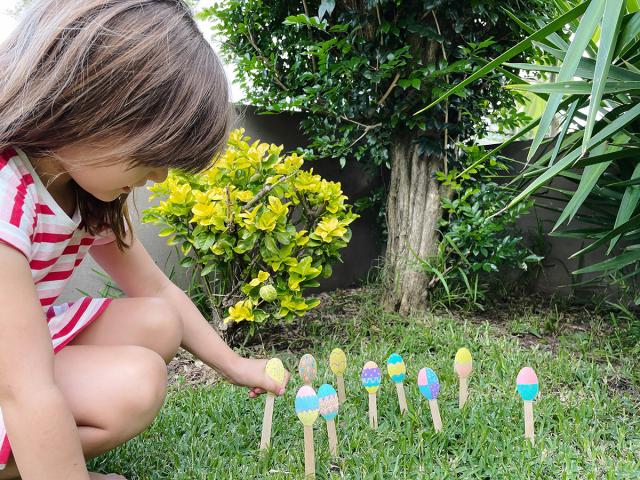 The past two years have been a rollercoaster ride of change, fear and uncertainty.
Most of us have relied on the security of home and everyday joy found in simple pleasures.
School teacher and craft expert Shannon Wong-Nizic said this was particularly true when it came to children, who benefited enormously from home-based 'back to basics' activities such as crafting, needlework and baking.
"Creative pursuits help children feel grounded and calm," she said.
"It requires them to busy their hands, put down their screens, still their minds and be present in the moment.
"These are such important self-care skills for little ones to learn growing up in today's fast-paced, news-driven world."
Shannon said Easter was the perfect time for parents to connect with their children through craft.
"Holiday periods like Easter provide us with a beautiful opportunity to create calming family traditions, particularly after so many of us have had a turbulent school term dealing with issues surrounding Covid," she said.
To create a calming craft bubble in your home this Easter, Shannon recommended:
PJ all day
Break the daily school routine and declare Good Friday 'PJ Day'.
No more rushing to clean teeth, tie shoes and race out the door – tell the kids they can wear their PJs all day, and don't forget to join in for added fun.
Crazy breakfast
Give the kids the chance to choose or make their own breakfast – however crazy it is! Decide the day before so you can get everything they need.
So what if it's Nutella toast with sprinkles or purple pancakes?
It's one day a year and you're making memories to last a lifetime.
Get crafty
After a nice slow start to the morning, get the craft kit out.
If you're mess-averse, enjoy some wonderful craft projects with scissors, coloured pens and pencils.
All-in-one paint markers such as Pintor are a great option as there's no need for messy paint pots and brushes and you can use them on any material – perfect for decorating eggs, hats or Easter baskets.
Screens off
For many families, the lockdown led to more screen time while we struggled to juggle work and domestic duties.
Time off screens connecting through crafting together can build the warm and fuzzy feelings that contribute to a child's sense of safety and security.
Find Shannon's Easter craft templates at www.pilotpen.com.au.